Marshall Carter - Guitar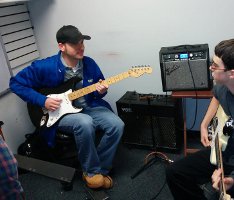 Marshall's education in music began with private instruction in piano, violin, guitar and vocal. While in College at MWSU he received his degree in Performing Arts with the Classical guitar. Marshall started teaching guitar at Lanham Music in 2000. Marshall has preformed around the Midwest since 1987 in all instruments mentioned above and has performed with musicians from all around the world with classical guitar. Marshall's teaching philosophy is to teach a student to be a self sufficient musician. Instead of a student only being able to read dots on staff paper but also be able to think, problem solve and create music. Marshall's strengths as a teacher is being able to connect his students with their respective instrument and a proficiency in music theory.
Lainie Cassidy - Piano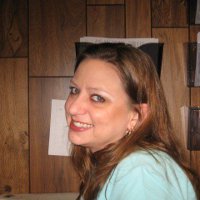 Lainie began taking organ lessons at age 5 and later began piano lessons at age 12. By age thirteen she was playing for weddings, accompanying the school choir and playing at her church. With more than thirty years experience in teaching, she truly believes music is for everyone and can be appreciated and fun for all.
Chris Clark - Guitar, Bass, and Mandolin
Born and raised in St. Joseph, Chris started playing guitar at the age of 9, and has been teaching guitar and bass guitar with Lanham for 15 years. Currently plays in the 80's tribute band, "Blue Oyster Culture Club" and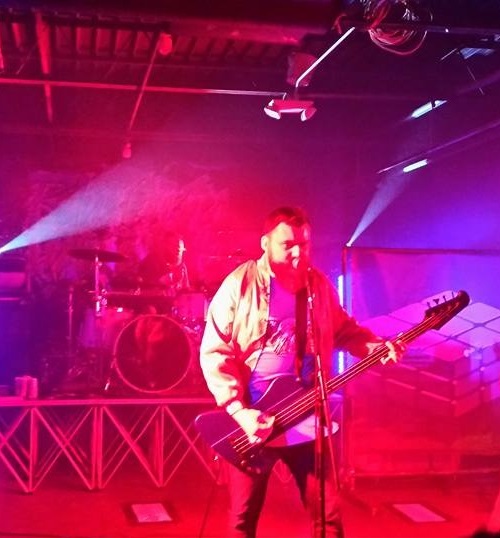 instrumental, post-rock band "Sisters Of..". He has toured across the country for 3 years sharing the stage with Social Distortion, Lucero, The Ataris, Say Anything, Jet, and in the previously Kansas City based band, Blackpool Lights. While finishing his business degree at Missouri Western State University he briefly lived in Omaha, Nebraska working at Saddle Creek Records.His approach to teaching is focused more on technique, composition, learning the dynamic of playing with others and understanding business of music and production.
Jarod Estrada - Percussion & Drums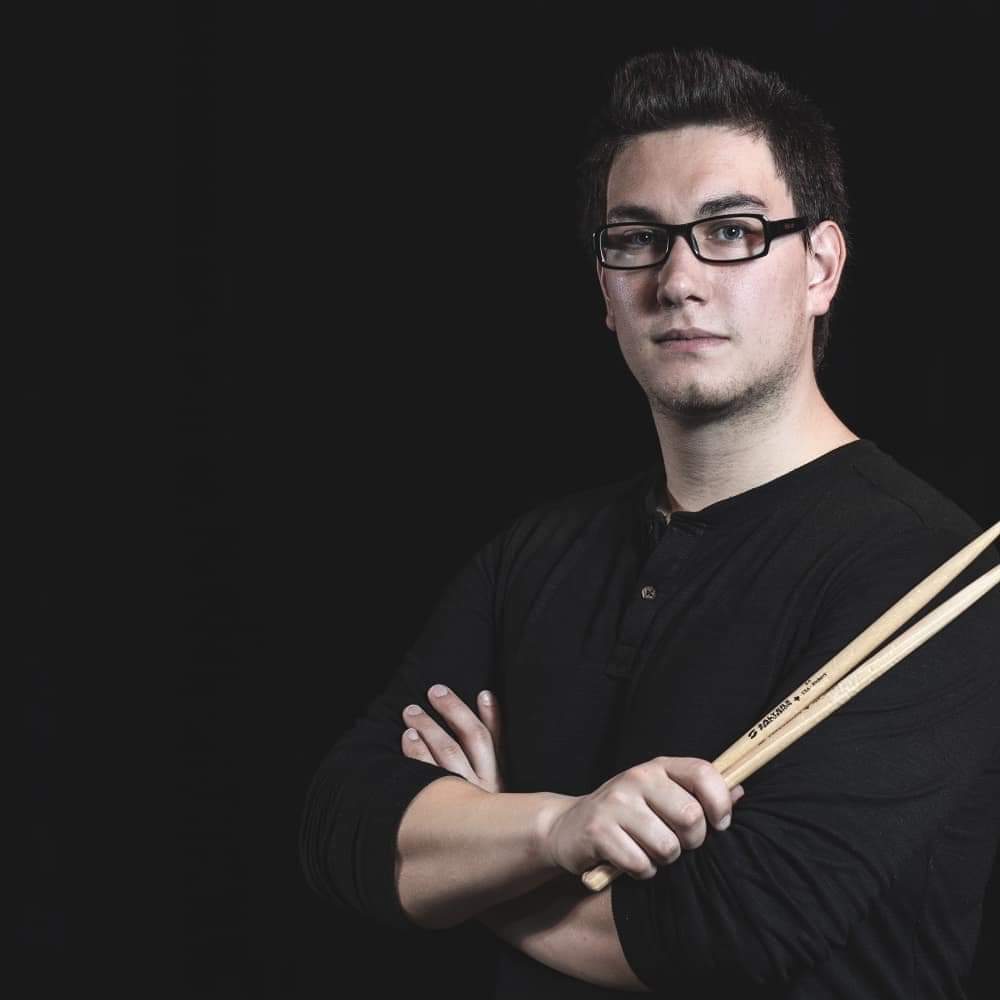 Jarod Estrada is a percussionist, performer, and music theorist in the St. Joseph and Kansas City areas. He studied with world-class teachers who have prepared him to succeed as a performer; he is ready to pass those skills on to his students. An all-around lover of music, Jarod has trained in rock/contemporary drumming, traditional/sacred drumming, and world/orchestral percussion. Jarod performs locally with artists such as Tom Keller, Stephanie Gummelt, and Brent Isom. He credits most of his experience to the British Brass Band community, having been a performer/conductor in over a dozen brass bands. Jarod is a checklist oriented teacher with clear achievable goals for his students. He hopes that an efficient system personalized to each student sets them up for success and, most importantly, having fun! "They call it 'playing' music for a reason!"
Joe Fedrizzi - Violin & Fiddle
Joe Fedrizzi began playing violin at 6 years old. His instructor taught him using the Suzuki method. He graduated from K-State with a bachelor's degree in music education. Joe is a very disciplined and seasoned violin player, placing in the top 5 of the international fiddle competition in Winfield, Kansas. He also has experience playing in bands around the area. Joe has been teaching both groups and individuals for over 6 years and currently teaches music at a local elementary school.
Gariann Grindstaff - Piano & Voice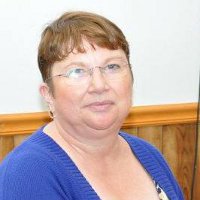 "Ms. Gari" Grindstaff has been a fixture here at Lanham Music for over 20 years. She loves teaching all ages, and has students from age 5 - 75 currently in her studio. Gari considers herself a piano instructor and a vocal coach. She has experience in teaching all areas of both instruments, (voice is an instrument!) emphasizing theory (why it works and how). Gari has worked with several rock band vocalists in the area, as well as readying students for contests, pageants, etc., and enjoys her adult hobbyist students as well. A member of the Mid-America Music Association, Gari takes her students to competitions as regularly as possible. Performance opportunities are looked for, and looked forward to by her studio. Gari has a degree from MWSU, and has performed and accompanied with and for several choirs in the area. Gari also substitute teaches with both St. Joseph Christian school & St. Joseph Public Schools, works with the rehabilitation Institute of Kansas city as an employment specialist, and accompanies for the Community Presbyterian Church. "It is my strong belief that music can be learned and loved by anyone. I enjoy the challenge of a student that may have special needs - and don't we all have special needs? - and the joy that comes from astudent when they have accepted and overcome their challenges".
Jake Heinerikson - Guitar, Ukulele & Bass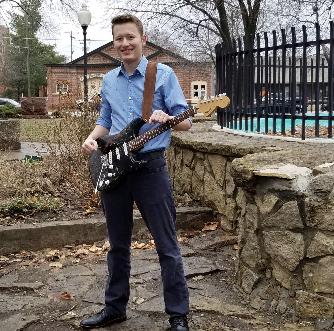 Jake began his music education at the age of 7. Currently, he plays every variation of the guitar and bass in multiple bands across the Saint Joseph area, including the Missouri Western Jazz Ensemble, Pep Band, Kindr3d, and multiple jazz combos to name a few. Over the years, he has had the opportunity to learn from many great musicians including Steve Houghton, Jim Riley, James Albright, and Jason Riley. As a teacher, Jake's teaching method involves establishing a strong foundation of music theory proportionate to a healthy knowledge of musical styles and practice regiments. However, Jacob has found that the most important lesson he can teach his students is how to love making music.
Brent Isom - Piano, Guitar, and Voice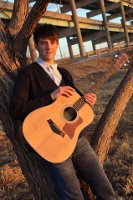 Based out of St. Joseph, MO, Brent Isom is an active part of the local music scene. He has given a number of performances at a variety of community events and has also performed and led worship for church camps, revivals, and youth retreats across Missouri and Kansas. He holds a Bachelor of Music with a music technology concentration from Missouri Western State University, where he studied guitar and voice. Additionally, Brent also serves as worship leader for New Harvest Baptist Church in Faucett, MO. As well as a performer, Brent is also an active teacher and composer. Brent has been teaching private lessons since 2007 and has enjoyed watching his students find success in their musical endeavors. As a composer, Brent has written for both acoustic and electronic mediums. His works include a score for a short film, chamber music, and dozens of songs. For more information about Brent, visit his website.
Beaux Lux - Guitar, Bass, Ukulele, Piano, Harmonica, Saxophone, Clarinet, Bassoon, Flute, Violin, Viola and Recorder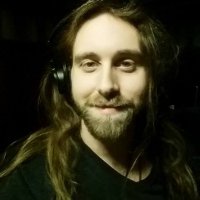 Beaux Lux is a multi-instrumentalist and composer, based out of northwest Missouri. Community-minded and a passionate educator, his decade long professional journey has included 4 music degrees, 10 instruments, 30 musicals, 35+ studio sessions, over 100 students, over 1000 gigs, and very active engagement with local music organizations.As a 6th generation musician in the Lux family, Beaux is a dedicated professional who seeks to strengthen the musical community and nurture his fellow musicians, often providing professional development and networking assistance.
Jeff Lux - Voice, Guitar, Piano, Flute, Harmonica, Recorder, Violin, Viola, Cello, Mandolin, Banjo, Ukulele, and Bass Guitar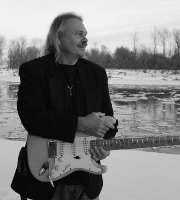 Jeff comes from a long line of music education and musicians and has studied with teachers from Yale, Berkley, Western Michigan, Oregon State, and Missouri Western. Jeff joined the Musicians Union Local #50 in 1964 and has taught and played professionally since then. Jeff has spent the last two decades working as a musical therapist in the Special Education department of the Atchison School District, teaching at Lanham Music, and performing all around the Missouri and Kansas area. Jeff has both national and local playing experience. He has recorded with members of Kansas on CBS Records, as well as played shows with many well known acts including Bob Segar, REO Speedwagon, Shooting Star, Cheap Trick, Shania Twain, Restless Heart, Toby Keith, Confederate Railroad, and Steve Wariner. Jeff believes that every student is unique and he strives to give the skills each student needs; from beginners to professionals. Playing many things makes it easy for him to transcend boundaries and communicate ideas.
Michelle Pritchard - Piano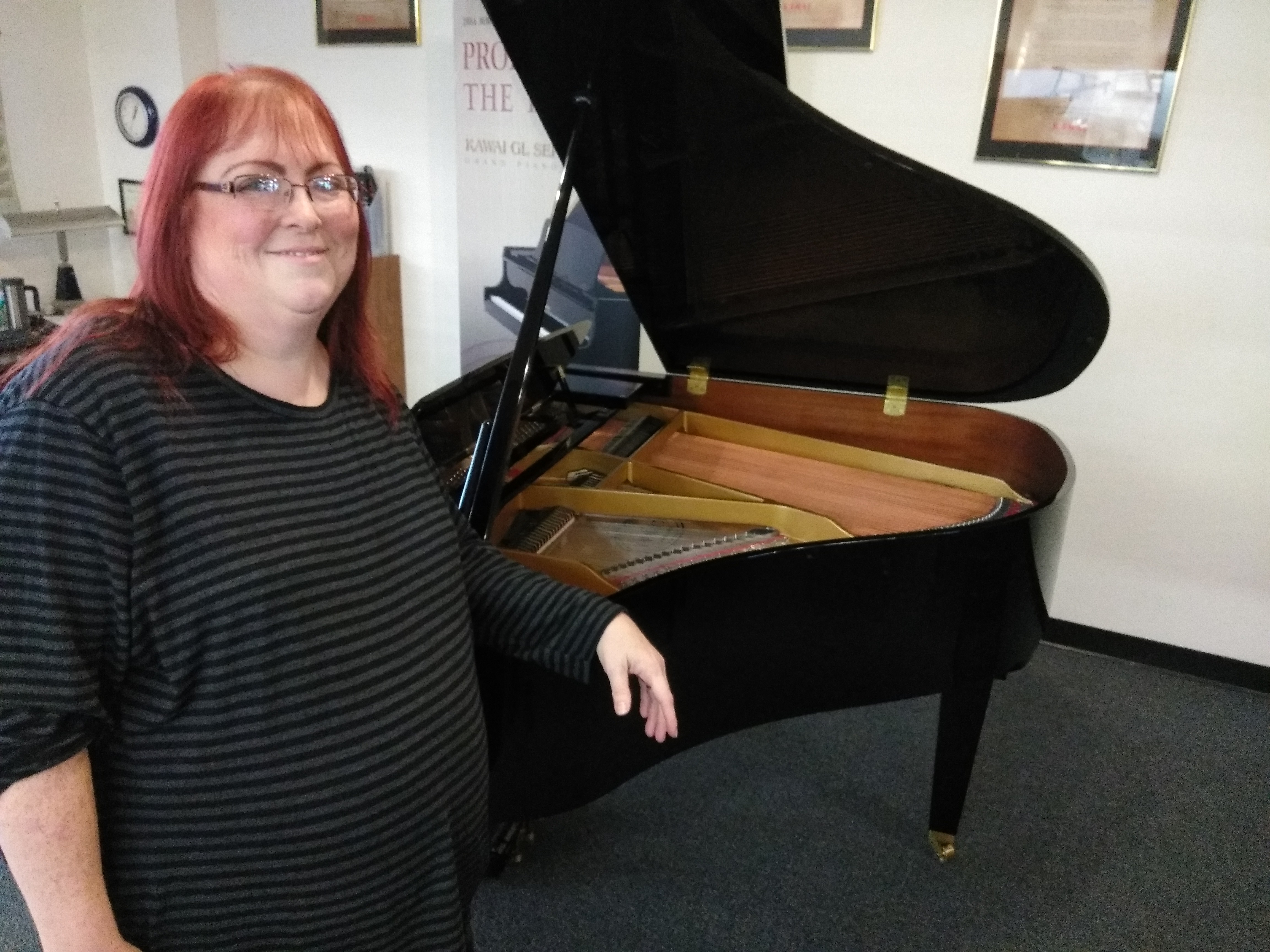 Michelle Pritchard has been playing and performing on the piano for more than 30 years. She holds an Associate of Theology Degree from Calvary Chapel Bible College located in southern California, where she was also selected to be the pianist for the college choir. She attended Missouri Western State University and majored in English with a minor in Piano. Michelle formerly taught piano lessons in St. Joseph, Missouri, her hometown. For the past 5 years she has been a private piano instructor for Rieman Music in Des Moines, Iowa. She has also played for many weddings, funerals and worship services. Michelle has been involved in music her whole life. Michelle is able to teach all ages from 6 years old to adults.
Chrissy Smith - Cello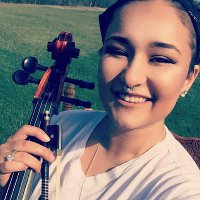 Chrissy has been playing cello for 8 years, six of them were spent in the SJSD orchestras. She has been the cellist in 6 different musicals, one at Missouri Western Playhouse, one with Roubidoux Resident Theatre, and four with Central High School. Chrissy has taken a quartet to state, and has performed in high school contests all four years. From 7th to her sophomore year in high school she studied under Erik Theno, and for her final year she studied with Daniel Gerhardt. She has a passion for the performing and visual arts, and is the captain of the Golden Griffon fall and winter guards.
Roy Noellsch - Guitar, Bass, Ukulele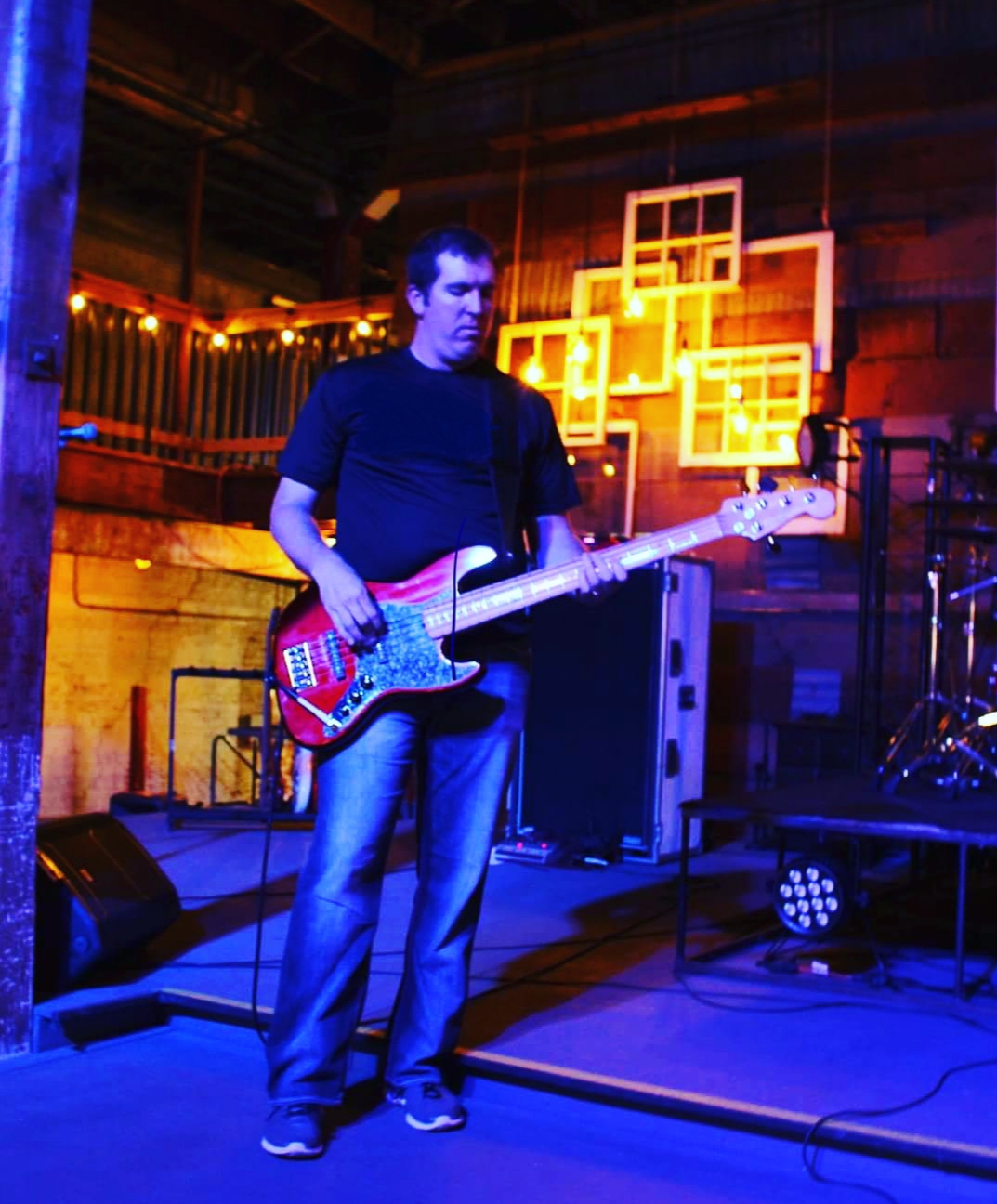 Roy's music journey began when he was a teenager. He began by taking lessons, and then joining a local church worship band in need of a bass player. In college, Roy began teaching an after school guitar music program at local schools called MIDI for Kids in which students learned the fundamentals of guitar and music theory. Since then, Roy has continued to teach guitar and bass to students of all ages from the Northwest Missouri area and has continued to be involved with various bands. Roy has spent the last 20 years serving at churches on worship bands as a guitarist. Currently, Roy is involved with a band called Midnight Disciples and also plays on Sunday mornings at his church in Maryville, MO. He is a 6th grade teacher in the Savannah School District. His hope is that his students will develop a love for playing their instrument that they can enjoy as a lifelong activity.